[2008.10.26]
A much more concerted effort to keep this updated, I suppose. I'm considering a redesign for the website, pending actual content that isn't crap no one cares about. I'm also getting a new job soon, ending my unemployment streak, and moving into a new apartment in less than two weeks. So much going on! A big thanks to everyone who has been so supportive of me through all my medical issues as well.

[2007.09.10]
I have a new website. How awesome! A giant thanks to Tasha at
imaginewith.com
for this. This is the first time since owning this bit of webspace that I've actually had something I like for my site. *luffs*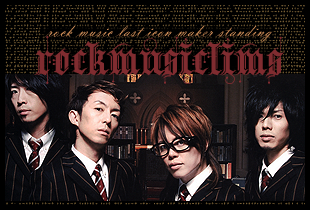 [2007.09.10]
Jamie and I are hard at work organizing Round #002 of ROCKMUSICLIMS. We had a blast in Round #001, and we're planning on having an even better time in Round #002, because we're... well, a lot more organized this time around, and we know what we're doing a little bit better than we did before. So if you're interested (and you have a livejournal... that part is really important...), head on over to
ROCKMUSICLIMS
and join, read the rules, then sign up. Also, we're still offering promotion in exchange for extra byes. That bit is really important, because it not only means there will be more people in the round, but it also means you have a better chance of making it further... if you play your cards right. Erm... your byes. Anyhow, all the information is in the userinfo, so please look! The first challenge of Round #002 will be posted on September 18th, so you have a little over a week! And while you're checking out the community, please also vote in the final challenge of Round #001, which ends... well, soon. We're offering awesome prizes to the winners, so don't miss out!
[2007.09.09]
I just bought the Slants' new album, "Slanted Eyes, Slanted Hearts." You know, if you buy the album from
their website
, you can win a date with a Slant of your choice. I picked Simon, of course... and then he left me a comment on my MySpace! I'm full of fangirl glee, can you tell?